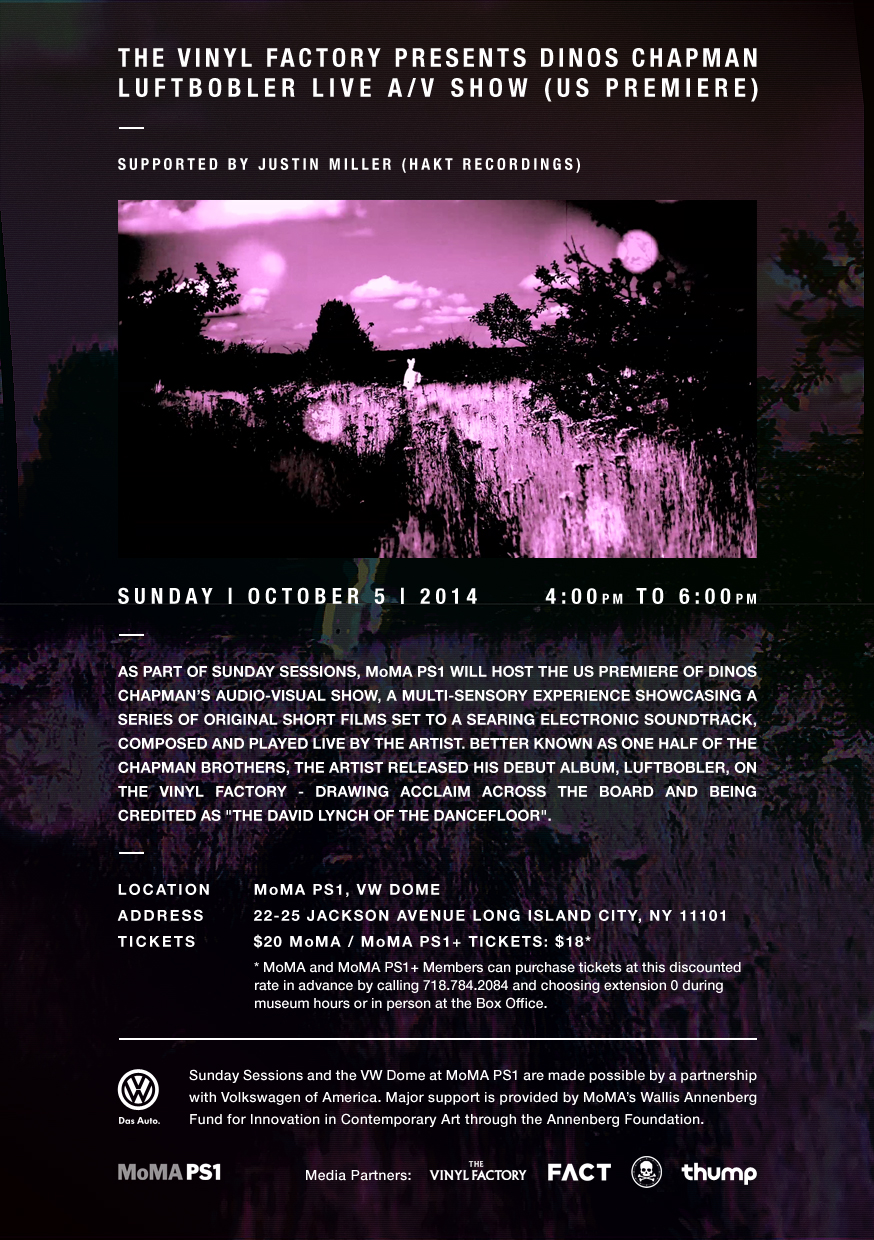 DINOS CHAPMAN - LUV2H8 EP
Six months after the release of his acclaimed debut album, Dinos Chapman returns with a new EP, Luv2h8, showcasing three brand new tracks that mark a clear progression for the artist-turned-musician.
Clocking in at nearly 10-minutes each, these new compositions encompass the throbbing, dancefloor-orientated title track, the bucolic and unnerving 'The Combine' and the snaking, hypnotic 'Samourai'. Also included is a monstrous proto-techno style remix of Luftbobler's title track by producer Trevor Jackson, who will be supporting Chapman at his live AV show at Fabric on October 17.
The vinyl EP features two 180-gram heavyweight records housed in a bespoke full colour sleeve with artwork by Chapman. Available to pre-order now from The Vinyl Factory released 14 October 2013.
LUV2H8 EP
Side A – Luv2h8 (10.06)
Side B – The Combine (8.12)
Side C – Samourai (10.52)
Side D – Luftbobler, Trevor Jackson remix (9.40)
ALBUM REVIEWS
"Combines horror and melancholy potently. Chapman simmers his haunted creations, a sort of David Lynch of the dancefloor."
The Wire
"An unexpected delight. Full of nagging melodies and post-rave rhythms."
Boomkat
"Evokes a landscape of epic proportions - has appeal far beyond the art world."
Dazed & Confused
"An extremely convincing album of modern sounding techno - distrurbingly well produced."
Vice
"Composed of seismic tremors and sinister basslines, Luftbobler is unsettling and all the better for it."
Evening Standard
"An anxious avant-techno adventure that owes a debt both to Eno and Eastern European fairytales."
Time Out
AUDIO VISUAL SHOW
5 OCTOBER 2014 - MOMA PS1, NEW YORK
28 JUNE 2014 - GLASTONBURY FESTIVAL
28 MAY 2014 - MUTEK, MONTREAL
25 APRIL 2014 - DONAU, AUSTRIA
31 JANUARY 2014 - CTM, BERLIN
7 DECEMBER 2013 - RBMA, MOSCOW
22-24 NOVEMBER 2013 - ATP CAMBER SANDS (CURATED BY PRIMAVERA SOUND)
16 NOVEMBER 2013 - NEMO, PARIS
7-10 NOVEMBER 2013 - LEAF, LONDON (INSTALLATION)
7 NOVEMBER 2013 - CLUB TO CLUB, TURIN
25 OCTOBER 2013 - BRING TO LIGHT, BIRMINGHAM
17 OCTOBER 2013 - FABRIC, LONDON
15 JUNE 2013 - SONAR, BARCELONA
28 FEB 2013 - 3 MARCH 2013 - THE VINYL FACTORY SOHO (INSTALLATION)
FILMS
For further information, contact: [email protected]